"Miss Quad ain't playing around, and you can taste it in every bite."
—Pat Neely, from his introduction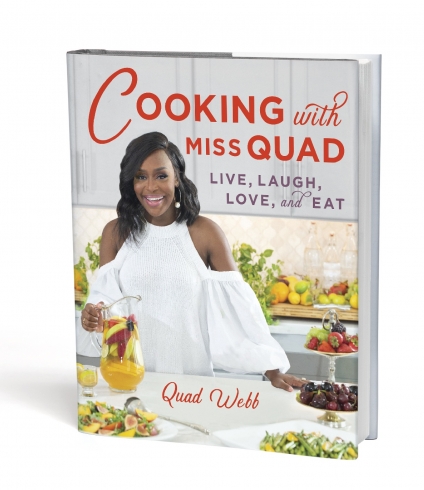 Live, Laugh, Love, and Eat
Welcome to Quad's kitchen. Get ready to cook with spirit, eat with gusto, and laugh with abandon. Whether you follow her on Bravo's Married to Medicine, are a regular watcher of Sister Circle, or have tuned into her Cooking with Miss Quad Instagram videos, you will want to add this long-anticipated cookbook to your repertoire.
Cooking is a pleasure and a respite for this star; it's an expression of love she wants to share with all her fans. Quad learned to cook from her mother, growing up in Memphis, Tennessee, so she's been cooking her entire life and insists that she's made every mistake possible behind a stove. Here she encourages even complete beginners to give cooking a try with delicious, updated southern classics, such as:
Jalapeno Cheese Hushpuppies

Cajun Deviled Eggs

Peach, Fig, and Arugula Salad

Cornmeal-Dusted Catfish

Memphis Dry Rub Ribs
Quad's energy in the kitchen is contagious, as is her passion for teaching others to overcome kitchen intimidation.

"Webb's passion for creating relaxed but exciting food is affectionately presented in these straightforward recipes."
Quad Webb stars on Bravo's Married to Medicine and is a talk show host on the ground-breaking Sister Circle, where her quick wit and fun-loving personality captivate audiences. She posts her #CookingWithQuad tutorials on Instagram @absolutelyquad. Born and raised in Memphis, Tennessee, she lives in Atlanta, Georgia.
The Countryman Press • W. W. Norton & Company
Independent Publishers since 1923